We have all heard about the incredible major attractions along the beautiful Great Ocean Road…the Twelve apostles, Bells Beach, Loch Ard Gorge, London Bridge… the list is endless, but, it's time we shared some of our favourite hidden gems. Being locals to the area, we are in the know and would like to share with you our knowledge and expertise to our neck of the woods worthwhile …
California Redwoods
You'd be surprised at how many people travel across the globe to the Great Ocean Road and miss out on this extraordinary place! Nestled in the Otways is a hidden gem called the California Redwoods (just outside of Beech Forest) where thousands of majestic mountain ash tower above you– some of these giants are more than 50 feet = tall! The deep red tones of the bark, coupled with the bright blue sky and lush green foliage make for a kaleidoscope of magical colour.
Cape Bridgewater
See some of the highest coastal cliffs in Victoria overlooking the deep-blue waters of Bridgewater Bay that stretches in a perfect crescent around the rim of a huge, ancient volcano crater. Wander for about 10minutes to take in the surreal landscape of the petrified forest which looks like a forest of tree roots turned into rock, watch as the sea spray blasts metres skyward at the blowhole and see the large breeding colony of fur seals from a look out above.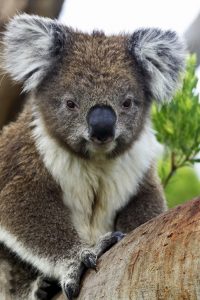 Koala spotting at Kennett River
The wildlife of Kennett River are the real show stoppers. See a huge variety of bold, bright birds (Parrots, Kookaburras, Cockatoos) and try your luck spotting koalas along Gibb River Road.
Lake Elisabeth
Head to Lake Elizabeth hidden deep in the Otways and discover its inspiring beauty with heavily timbered flanks and calm waters punctuated by the trunks of dead trees, drowned when the valley was flooded more than 50 years ago to form this "perched lake". The elusive platypus can be found in the waters of the lake.  Wake up early or head to Lake Elizabeth at dusk to catch a glimpse of these shy Australian natives.